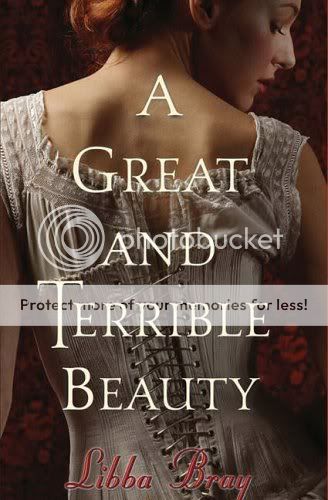 A Great and Terrible Beauty
By Libba Bray
December 9, 2003
Delacorte Books for Young Readers, 403 pages
It's 1895, and after the suicide of her mother, 16-year-old Gemma Doyle is shipped off from the life she knows in India to Spence, a proper boarding school in England. Lonely, guilt-ridden, and prone to visions of the future that have an uncomfortable habit of coming true, Gemma's reception there is a chilly one. To make things worse, she's been followed by a mysterious young Indian man, a man sent to watch her. But why? What is her destiny? And what will her entanglement with Spence's most powerful girls—and their foray into the spiritual world—lead to?
— Amazon.com description
This has actually never happened to me before: I don't know what to think of this book. See: I couldn't even pick a star rating.
I know! Me! The loud-mouthed, opinionated one. No clue.
This book is part of a series, and I think that has a lot to do with it. Gemma's story is just starting. I've barely got a taste of Kartik and feel there's much, much more of him—and Circe, and the realms, and Miss Moore—to come. To me, writing a review now feels a bit like judging a story when I've only read a few chapters.
I can say this: I am definitely looking forward to finding out what happens next. I wasn't swept away, and I'm not raving, but I have a lot of respect for what Bray created in
A Great and Terrible Beauty
. Her world was wonderfully crafted, and the feminist in me loves the way she took on women's status in Victorian society.
But there were parts, especially when the girls were in the realms, that I found myself reading and re-reading, unsure of what was happening. IT WAS SO TRIPPY. Plus, I was out of it with food poisoning while reading much of this. Double the trippy. Am I going to have acid flashbacks?
Another trouble spot was brought up by
Jenn from Girls Just Reading
. Gemma and her friends just seemed a little too modern for the book's historical setting. Which was great, because they were more relatable to me, but when such care was put into creating this perfect historical setting, some of the more modern dialogue threw me off. Though...I suppose I don't know how girls talked back then. Perhaps teenage girls will be teenage girls, no matter the century.
Readers seems to split people into two camps: Love or hate it. And I'm firmly split down the middle till I find out what happens next. Have you read it? What do you think? Would love to hear some other opinions!
If you like this book, you might also like:
A Certain Slant of Light
by Laura Whitcomb.