This past week, Adele at Persnickety Snark has been posting a week of FIVE lists. I'm a bit late to the party, but I'll be jumping in today with FIVE Great Series and Thursday with FIVE Great Rereads.
Click here to check out Adele's list!
So, without further ado...
1. The Harry Potter Series by J.K. Rowling
This goes without saying, right? The books...the movies...wow! As far as I'm concerned, nothing holds a candle to the world created by J.K. Rowling. I'm not a superfan by any means, but I
might
be planning a trip to the Wizarding World of Harry Potter park in Florida for the coming year. If you say you're not curious what butter beer tastes like, you're lying. (Warmed up, melted, boozy Werther's Originals candies, right? You know I'm right.)
Books:
Harry Potter and the Philosopher's Stone
Harry Potter and the Chamber of Secrets
Harry Potter and the Prisoner of Azkaban
Harry Potter and the Goblet of Fire
Harry Potter and the Order of the Phoenix
Harry Potter and the Half-Blood Prince
Harry Potter and the Deathly Hallows
2. The Hunger Games Series by Suzanne Collins
A fierce heroine. The Peeta vs. Gale battles. All that gore and suspense. This series is unputdownable to the core. Can you imagine the movies? EPIC!
Books:
The Hunger Games
Catching Fire
Mockingjay
3. The Morganville Vampires Series by Rachel Caine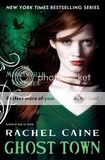 It's full of funny yet moving gooey goodness down to its vamptastic core. And I love it.
Books:
Glass Houses
The Dead Girls' Dance
Midnight Alley
Feast of Fools
Lord of Misrule
Carpe Corpus
Fade Out
Kiss of Death
Ghost Town
4. The Mortal Instruments Series by Cassandra Clare
Love them. Need to reread them STAT before the next book comes out. Amazing characters, the perfect amount of suspense and—who could forget?—JACE!
Books:
City of Bones
City of Ashes
City of Glass
City of Fallen Angels
(not released yet)
5. The Baby-Sitters Club Little Sister Books
Gotta respect the "classics," y'all. Yes, we are talking the LITTLE SISTER series here. It's what I was reading at age 7 when my parents let me read chapter books, and it's is where my love of series began!
What's on your list?