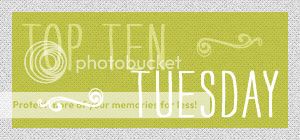 It's Top 10 Tuesday (hosted at The Broke and the Bookish) and the topic is:
Top 10 Bookish Pet Peeves.

My answer?


Oh, I don't blame you people for having pet peeves. I'm a bit of an OCD clean freak myself. As a kid, one of my favorite hobbies was rearranging things on my mother's shelves. I get it. I'm particular too.
But with books? Nope.
Dog-earred pages? How else are you supposed to remember where the good parts* are when you need to do a quick reread?
Bent spines? You try reading a paperback while standing on the El, holding on for dear life, packed in like a sardine, without bending a spine or two. Girl's gotta do what a girl's gotta do to get a few pages in before work. And try reading a book while eating lunch. Who has a hand to spare? A heavy object (my mom uses a stapler) to hold down the pages might bend the spine, but it gets the job done.
Stickers on books? Well, as a former Harpo employee, I'm certainly not going to complain about an Oprah's Book Club sticker or two.
My philosophy is that books are meant to be loved. Perhaps that's why I'm such a library addict and don't own too many of my own. 'Cause what good are books if they're just going to sit pristinely on a shelf? A little wear and tear means the story's been enjoyed time and time again.
Okay, now that I've frightened all of you away from ever lending me a book...feel free to ardently disagree in the comments.
* By "good parts" I obviously mean all kissing scenes and/or declarations of undying love.