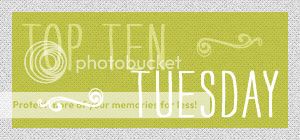 Top 10 Book Covers I Wish I Could Redesign
1. The cover for the Vampire Academy series by Richelle Mead
Love these books. But the cover models didn't look like that characters for me, and they were just posed in REALLY awkward positions. Over the shoulder looks? One where her head kinda looks snapped? This just really doesn't convey the high quality of these books.
2. Lovestruck Summer by Melissa Walker
This book is actually about a girl who isn't very cheery, is super into indie music and hates sorority/girly girl types. You definitely wouldn't get that from this "beach party"-themed cover.
3. Breaking Dawn by Stephenie Meyer
I know that it was explained that it was about power...or something...but chess? I don't get it.
4. Claudia Gray's books
I met this Chicago author last month, and she was so kind and hilarious. But I don't feel like these books convey much about her vampire series -- which I quite enjoy. They look like photocopies, no?
5. Rachel Hawthorne's books
There's several I could have used as an example. These books are cute, wonderful fluff. And these covers are cute fluff too, but I feel like they encourage the reader to skip right over them. Give these books a try--there's more to them than the covers convey.
6. Going Too Far by Jennifer Echols
Listen, if you haven't had the benefit of meeting Mr. John After...please go buy this book now and rectify this situation. Knowing what I know about the man (or, CHARACTER, whatever, he's real to me), I just don't see him on this cover. The model used just seems a little too...feminine. The posing of the cover also makes this book seem like it's a lot more about sex than it actually is. Does anyone else agree?
Also: Did Meg ever have an eyebrow piercing in the book? I just don't know that they mentioned one. Not sure why it bothers me that there's one on the cover, but it does.
7. Wrinkle in Time by Madeleine L'Engle
So I know this isn't the only cover out there. But this is the cover I had growing up. And it is FUG. And permanently burned into my brain.
8. The Year of Secret Assignments by Jaclyn Moriarty
Maybe it's a culture issue, but I don't get this cover. Is that a mailbox? That's my best guess. But in the book they don't use mail...they use lockers. And the smiley face is a little creeptastic. Regardless: Great book. Check it out.
Okay, that's all I got! What are your least fave covers? Or, at least, books that are WAY better than their covers convey?
Update: It's worth noting that though I am knocking all these covers, I LOVE all these books. I just think they need to be put into a hot new outfit or something to raise their self-esteem, you know? A makeover does wonders!