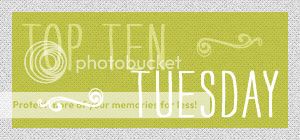 Top 10 Books I'd Like to See Made Into Movies
1. Vampire Academy series by Richelle Mead
I know, I know, you're all: "Enough with these books already, Anna." Too bad, so sad!
2. The Iron Fey series by Julie Kagawa
These two series get top billing on the list because my very limited imagination pictures the same actor as both Dimitri and Ash:
Hello, Mr. Ben Barnes. I'm not saying he'd need to star for me to enjoy it -- I'm just saying that it get a girl's imagination stirring! You understand.
3. The Jessica Darling series by Megan McCafferty
Lord, some movie studio out there help me visualize Marcus Flutie and his red dreads. Please, I beg of you. Because I have to believe deep down that this can be hot. Somehow. I trust you, Megan! Word is there's a script in the works.
4. The Absolutely True Story of a Part-Time Indian by Sherman Alexie
If the Wimpy Kid series can succeed, certainly this beautiful, cartoon-heavy book can be brought to life on the big screen as well.
5. Anything by Meg Cabot
Okay, so that Disney Channel movie based on
Avalon High
was sort of (okay, totally) crap, but remember
Princess Diaries.
I thought that was a perfect adaptation, and I'm ready for another Meg book in the theaters. I'd like to see the Mediator series or the Heather Wells series.
6. Heist Society by Ally Carter
It'd be
Italian Job
for teens. This book was made to be a movie.
7. Before I Fall by Lauren Oliver
I'm a sucker for anything movie in a
Groundhog's Day
-type form. Seeing the same thing happen again and again with little changes here and there can have a big visual impact. (i.e., Has anyone else seen
Source Code
?)
8. The Disreputable History of Frankie Landau-Banks by E. Lockhart
Who DOESN'T love a boarding school movie?!
9. The Body Finder by Kimberly Derting
The suspense is cinematic in the book...imagine what it'd be like in the actual cinema.
10. Dash & Lily's Book of Dares by Rachel Cohn and David Levithan
I laughed and laughed at the
Nick and Norah's Infinite Playlist
movie, based on a book written by Rachel and David. Let's make that happen again!
So, listen up, movie-type people with power and money and the ability to make these dreams come true. Please & thank you.