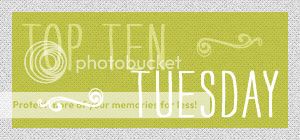 Top 10 MEAN GIRLS in Books
Oh you nasty, nasty Bs. So look -- I couldn't get to 10 because I was too upset thinking about all the rudeness, the bullying, the self-righteousness, the rumors. RUDE. But such a great plot device, no?
1. Miss Bingley in Pride & Prejudice by Jane Austen
"She has nothing, in short, to recommend her, but being an excellent walker. I shall never forget her appearance this morning. She really looked almost wild."
What a jerk. Sure it's masked in flowery language, but calling a girl's hair "untidy, and so blowsy" is just low.
2. Sam from Before I Fall by Lauren Oliver
"Psycho killer, qu'est-ce que c'est"
... she and her friends taunted a girl by singing this Talking Heads song, day after day, in the cafeteria. Sure, she learned her lesson in the end, but damn. What a bully!
3. Any female from Gossip Girl
"Take off that hideous scarf, Penelope, you can see it from space." I read the books so long ago I'm going to go ahead and mix 'em up with the TV show. But the point remains: I dare someone to name a female character from this series who hasn't been portrayed at some point at a Mean Girl. Can't do it, can you?
4. Tory from Jinx by Meg Cabot
Teenage girls are bad enough without throwing MAGIC into the equation. Eesh.
5. Evil Stepsisters from
Cinderella
by ... I don't know. Ancient folk tale people? And then later Disney.
PS: Their names are Esmeralda and Prunella.
6. Monica Morrel from the Morganville Vampires series by Rachel Caine
"You're one smart little freak. Now run away, smart little freak, before I change my mind and stick you in one of these old suitcases for some architect to find a hundred years from now."
This girl is beyond
Heathers
psycho. We're talking mean in the "I will give you over to bloodthirsty vamps and laugh while I watch you die" mean. But I don't know...there might be redemption for her yet.
Here's the thing about Mean Girls, people, fictional or not: They are everywhere (even in blogging) and you can't avoid them. But they always -- always -- get what's coming to them. Girls can be bitches, but karma's the bitchiest of 'em all. Remember that.