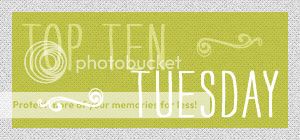 It's Top 10 Tuesday (hosted at The Broke and the Bookish) and the topic is:
Top 10 Books That Should Be in a Beach Bag

1. Baby-Sitters Club Super Special #5: California Girls! by Ann M. Martin
When the baby-sitters win the lottery, they go to California with Dawn. Jessi lands a part in a television show, Stacey becomes a surfer girl, and the girls still have time for baby-sitting, sight-seeing, and the beach!
2.
Peaches
by Jodi Lynn Anderson
Three Georgia peaches are in for one juicy summer ... but Birdie would rather eat Thin Mints and sulk in the A/C. Leeda would prefer to sneak off with her boyfriend, Rex. And Murphy would much rather cause a little mischief. Together these three very different girls will discover the secret to finding the right boy, making the truest of friends, and picking the perfect Georgia peach.
When Sam's best friend gets her first boyfriend, she's not ready to spend the summer listening to the two of them call each other "pookie." Sick of being a third wheel, Sam applies to be a counselor-in-training at Whispering Pines camp in the New York Catskills. But what she doesn't realize is that it's not going to be all Kumbaya sing-alongs and gooey s'mores.
4. Caribbean Cruising by Rachel Hawthorne
The perfect summer story of a girl, several boys, and a cruise ship full of possibilities. Lindsay has never been on a cruise, but she knows exactly what she wants to do now that she is: climb a waterfall, snorkel, meet lots of cute guys, and look for one perfect guy for a summer fling.
5. Along for the Ride by Sarah Dessen
Ever since her parents began fighting, Auden has been unable to sleep at night. Now, spending a summer at a charming beach town with her father and his new family, she has to find new places to pass the time she spends awake. And so she meets Eli, a fellow insomniac who becomes her nighttime guide.
6. Twenty Boy Summer by Sarah Ockler
According to her best friend Frankie, twenty days in Zanzibar Bay is the perfect opportunity to have a summer fling, and if they meet one boy ever day, there's a pretty good chance Anna will find her first summer romance. Anna lightheartedly agrees to the game, but there's something she hasn't told Frankie---she's already had that kind of romance, and it was with Frankie's older brother, Matt, just before his tragic death one year ago.
7. How to Ruin a Summer Vacation by Simone Elkeles
Going to Israel with her estranged Israeli father is the last thing Amy wants to do this summer. She's got a serious grudge against her dad, a.k.a. "Sperm Donor," for showing up so rarely in her life. Now he's dragging her to a war zone to meet a family she's never known, where she'll probably be drafted into the army.
8. The Summer I Turned Pretty by Jenny Han
Belly measures her life in summers. Everything good, everything magical happens between the months of June and August. Winters are simply a time to count the weeks until the next summer, a place away from the beach house, away from Susannah, and most importantly, away from Jeremiah and Conrad.


9. Amy and Roger's Epic Detour by Morgan Matson
Amy Curry thinks her life sucks. Her mom decides to move from California to Connecticut to start anew--just in time for Amy's senior year. Her dad recently died in a car accident. So Amy embarks on a road trip to escape from it all, driving cross-country from the home she's always known toward her new life. Joining Amy on the road trip is Roger, the son of Amy's mother's old friend. Amy hasn't seen him in years, and she is less than thrilled to be driving across the country with a guy she barely knows. So she's surprised to find that she is developing a crush on him.
10. Pants on Fire by Meg Cabot
She's juggling two boyfriends, secretly hating the high school football team everyone else worships, and trying to have the best summer ever. At least Katie has it all under control (sort of). Her biggest secret, what really happened the night "Tommy Sullivan is a freak" was spray-painted on the junior high gymnasium wall, is safe. That is, until Tommy comes back to town. Katie is sure he's going to ruin all her plans, and she'll do anything to hang on to her perfect existence. Even if it means telling more lies. Even if, now that Tommy's around, she's actually—truthfully—having the time of her life.


11. Stealing Heaven by Elizabeth Scott (I love summer books -- there was no stopping at 10!)
Dani has been trained as a thief by the best there is—her mother. They never stay in one place long enough for Dani to have real connections, real friends—a real life. But in the town of Heaven, everything changes. Suddenly, Dani must question where her loyalties lie: with the life she's always known—or the one she's always wanted.