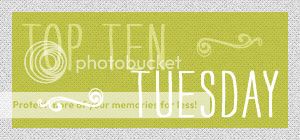 Top 10 Books I'm So Happy Were Recommended to Me
These are the books I definitely wouldn't have picked up on my own. But I'm SO freaking glad I did! Thanks for the recs, guys. Keep 'em coming.
1. The Trixie Belden Series
Let's start at the very beginning, eh? My mom collected these books when she was a child and passed them on to me. I reread them each at least five times. Think Nancy Drew but BETTER.
2. The Hobbit by J.R.R. Tolkien
I was searching for a new book for a family road trip, probably around age 11, when my dad walked up to me in the Barnes and Noble and handed me
The Hobbit
. "Read this," he said, then walked away. Have I mentioned lately that I LOVE coming from a bookish family?
3. The Vampire Academy Series by Richelle Mead
I've said this before, and I'll say it again: Have you seen those covers? I'm definitely guilty of judging a book by its cover, so it took me forever to read these. I'm so glad I finally did.
4. If I Stay by Gayle Forman
My dear friend
Jamie
sent me this one for Christmas. I hate books about death, but thank goodness she sent me this one. It's about so much more than that. A beautiful read -- review to come next week!
5. The Summer Series by Jenny Han
Have you met
Ginger
? If so, you know she's a little, um, obsessed. And rightfully so! Glad she introduced me to the gang at Cousins Beach. A great summer read.
6. The Hunger Games by Suzanne Collins
A co-worker at my old job told she'd started reading this and couldn't put it down. I went to the bookstore after work that night and stayed up all night reading it. Bring on the movie!
7.
Jellicoe Road
by Melina Marchetta
This book gets off to a slow start -- everyone agrees on that. Thankfully, I'd been warned by the many, many bloggers who rave over this book to plow my way through. Give it a go, and stick with it. Worth it!
8. One Night That Changes Everything by Lauren Barnholdt
Another rec from Ginger. If you like
Nick & Norah's Infinite Playlist
-type books, or anything contemporary, try this one. I adore books that unfold throughout the course of an evening.
9.
The Absolutely True Story of a Part-Time Indian
by Sherman Alexie
This book was recommended to me by my best friend Ali in
this post
. She knows her stuff. Check it out.
10. Any book my book club made me read
Oh my god, I can't believe I'm admitting this. Look, I don't read about 85% of the books. But when I do, I'm usually happy I let them push me out of my comfort zone. (Friends who are reading this: That does not mean you are allowed to make me read any more non-fiction books about serial killers. I MEAN IT.)
Now, this week I have a few books to read that were also highly recommended:
Mostly Good Girls
by Leila Sales (
Carla
) and
Please Ignore Vera Dietz
by A.S. King (Jamie). Let me know if I've ever recommended a book that you've read and enjoyed -- I'd love to know!