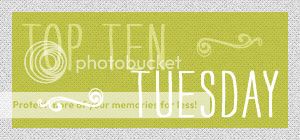 Top 10 Minor Characters in Books
Movies? No prob. TV? I can rattle off 10 great minor characters right now. Books were harder for some reason -- I only made it to eight!
1. Luna Lovegood from Harry Potter by J.K. Rowling
Oh, Luna. Let's face it: The girl is crazy. But she's also kind, forgiving and always there for her friends in a pinch. Seriously, she's my favorite Harry Potter character.
2.
Myrnin from the Morganville Vampires series by Rachel Caine
Speaking of crazy...Myrnin certainly brings it. But, like Luna, the batsh*t vamp means well. We hope so, anyway.
3.
Rue from
The Hunger Games
by Suzanne Collins
Who didn't cry in the Rue scene? Seriously, who? Just wait for the movie! Look at her cute little face.
4. Grimalkin from the Iron Fey series by Julie Kagawa
The sarcastic trickster is a "cait sith," but in my mind he's the Cheshire Cat from Alice in Wonderland. When he enters a scene, you know things are gonna get interesting.
5. Seth in The Twilight Saga by Stephenie Meyer
In the midst of all the "me me me" dramarama in these books, Seth is just a nice kid who, instead of brooding, tries to be normal and just do the right thing. Crazy refreshing.
6. Marin in the Jessica Darling series by Megan McCafferty
Okay, so she's just a kid in the books, but she pretty much said exactly what we were all thinking (SPOILER ALERT):
"YES! You and Marcus still LOVE LOVE LOVE each other because you and Marcus are TRUE SOUL MATES even though you haven't seen each other in, like, FOREVER, but it's just like MOM and E-CAR JERRY, who didn't see each other after, like, FOREVER, and it was, like, WHAMMO! BLAMMO! Cupid's ARROW with, like, MANY INTIMATE MOMENTS, and they knew it was FATE and DESTINY that had brought them back together..."
7. Clare in Awaken by Katie Kacvinsky
I JUST finished this book, and the review is still on the way, but I adored Clare. I'm so sick of girls backstabbing their friends or abandoning them or stealing their men. Clare was just a genuinely kind, supportive girl who wanted the best for her new friend. Love it.
8. Susannah from the Summer series by Jenny Han
Fun and loving...she lightened up the lives of everyone she touched in these books.
Who are your faves?