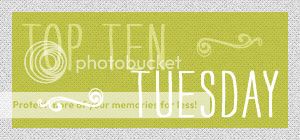 It's Top 10 Tuesday (hosted at The Broke and the Bookish) and the topic is:
Top 10 Book-Related Websites
A little peek into my Internet bookmarks:
1. Amazon Wish Lists
A lot of people use GoodReads.com for this feature, but I set up my Amazon Wish List long ago and don't have the energy to transfer it all over. It's a long list, but at 280-ish books, that's actually whittled down. Give it a look!
2. Anderson's event page
Anderson's is an independent book shop out in the 'burbs that is actually quite difficult for me to get to for weeknight events, but they have a great young adult selection and tons of authors are fans, so I try my best. If you click over to the "Authors" page in the sidebar, you'll see a lot of pictures of me at author signings there. They do a wonderful job!
3. Chicago Public Library website
I cannot stress how much I recommend that you register for your local library's online services, if it offers them. I use the CPL's system to put books on hold -- usually five at a time – and it saves me a lot of time during my frequent trips to my neighborhood branch.
4. Publisher's Weekly children's section
A great resource for the latest news in the children's publishing industry.
5. NetGalley
This is how I get many of my advanced reader's copies, sent directly to my Kindle. Bonus: They are superstars when it comes to customer service.
6. Picnik
Believe it or not, I was a professional designer at one point (I edited/designed the front page for a big suburban newspaper right after college). So I can Photoshop till I drop, but Piknik is a lot easier sometimes when I have a quick graphic to make for the blog. Check it out if you're ever in need of some quick photo editing.
7. & 8. Meg Cabot and Jen Lancaster's blogs
These were the first author blogs I read. I love Meg, so that one is a given. But, surprisingly, I actually haven't read anything by Jen Lancaster other than her blog. I should – and soon – because this blog is just a laugh riot. Plus, she's a Chicagoan.
9. Google Calendar
A must for planning what I'm going to post each day. I know, this is a hobby, but it's nice to keep my schedules organized. What up, OCD!
10. The Chicago Tribune's books section and its Twitter account
The former journalist in me can't resist analyzing any topic from a local perspective, and the Trib is the best place to do it. I love their news, features and reviews in print, but they're doing a wonderful job online as well. Plus, they host the annual Printer's Row Lit Fest, which was a real treat to visit earlier this summer. Look them up on Twitter @ChiReadsBooks.