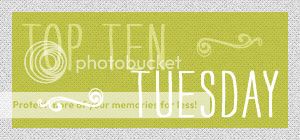 It's Top 10 Tuesday (hosted at The Broke and the Bookish) and the topic is:
Top 10 AWWW Moments in Books
You guys know I'm always turning over the corners on the "good parts," right? I dug a few of my faves off the shelves to see what I'd earmarked. Please enjoy the cheesy goodness:
AWWW, Adam:
If I Stay
by Gayle Forman
"You didn't really get those tickets from a family friend, did you?" I asked.
I thought he would laugh or throw up his arm in mock surrender like he did when I beat him in an argument. But he looked straight at me, so I could see the green and browns and grays swimming around his irises. He shook his head. "That was two weeks of pizza-delivery tips," he admitted.
AWWW, Jace:
City of Glass
by Cassandra Clare
"Since I've met you, everything I've done has been in part because of you. I can't untie myself from you, Clary -- not my heart of my blood or my mind or any other part of me. And I don't want to."
AWWW, Doug:
Forget You
by Jennifer Echols
"I understand I can't have you. But I want to know you're in the world with me."
AWWW, Edward: (Whatever, don't judge. I'm over it now but it was cute at the time.)
Eclipse
by Stephenie Meyer
"Isabella Swan?" He looked up at me through his impossibly long lashes, his golden eyes soft but, somehow, still scorching. "I promise to love you forever -- every single day of forever. Will you marry me?"
AWWW, Ash:
The Iron Queen
by Julie Kagawa
"I swear, on my honor, my True Name, and my life. From this day on..." His voice went even softer, but I still heart it as though he whispered it into my ear. "I am yours."
AWWW, Marcus:
Perfect Fifths
by Megan McCafferty (BONUS POINT FOR HAIKU FORM!)
"Gone for a while
Hoping, always, to return
If you will let me"
AWWW, Dimitri:
Frostbite
by Richelle Mead
"I couldn't return that...couldn't give her what she wanted. Not when..." He took a few steps toward me. "Not when my heart is somewhere else."
AWWW, Cabel (Well, and Janie):
Fade
by Lisa McMann
Because with the right person, sometimes kissing feels like healing.
AWWW, Sam:
Linger
by Maggie Stiefvater
"What are you wishing for?" Grace interrupted. "To kiss you," I said to her.
AWWW, Roger:
Amy & Roger's Epic Detour
by Morgan Matson
"The best discoveries always happened to the people who weren't looking for it. Columbus and America. Pinzon, who stumbled on Brazil while looking for the West Indies. Stanley happening on Victoria Falls. And you. Amy Curry, when I was least expecting her."