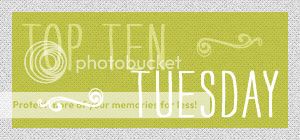 It's Top 10 Tuesday (hosted at The Broke and the Bookish) and the topic is:
Top 10 Settings in Books
1. Paris (Die for Me by Amy Plum)
This is the most recent book I've read in which the setting just stole the show. The main character kept reading books at cafes, people watching and strolling secluded streets filled with cute shops. That's a setting die for.
2. Hogwarts (Harry Potter series by J.K. Rowling)
Do I even need to explain this? It's magical! And, yes, I am going to the Wizarding World of Harry Potter this fall to experience it for myself. Mmm, butterbeer…
3. The Hunger Games arena(s) (The Hunger Games series by Suzanne Collins)
I don't want to GO there or anything. But I dare you to tell me the arenas aren't the coolest things to visualize since Biodome!
4. The Shire (The Hobbit and The Lord of the Rings by J.R.R. Tolkien)
It was gorgeous in written word and perfectly captured onscreen in the Lord of the Rings movies.
5. The underwater world (Forgive My Fins by Tera Lynn Childs)
I was a BIG Little Mermaid fan as a child.
6. Greece (Sisterhood of the Traveling Pants series by Ann Brashares)
Santorini is my favorite place in the world.
7. Idris (City of Glass by Cassandra Clare)
I can't even visualize this city, but it sounds visually spectacular.
8. The secret garden (The Secret Garden by Frances Hodgson Burnett)
This was a childhood daydream of mine.
9. Cousins Beach (The Summer series by Jenny Han)
Who wouldn't want a fancy schmancy beach house?
10. The road (The Road by Cormac McCarthy)
I don't think I've ever read a book with a more powerful, dreary, desolate, moving setting.