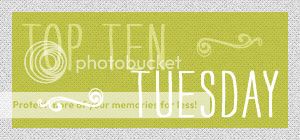 It's Top 10 Tuesday (hosted at The Broke and the Bookish) and the topic is
Top 10 Books You Believe Should Be Required Reading for Teens
1.
The Giver
by Lois Lowry
2.
Speak
by Lauren Halse Anderson
3.
The Absolutely True Story of a Part-Time Indian
by Sherman Alexie
4.
Thirteen Reasons Why
by Jay Asher
5.
The Perks of Being a Wallflower
by Stephen Chbosky
6.
The Hunger Games
by Suzanne Collins
7.
The Outsiders
by S.E. Hinton
8.
To Kill a Mockingbird
by Harper Lee
9.
Harry Potter and the Sorcerer's Stone
by J.K. Rowling
10. And, saying screw it to the list above, I have to say that, most importantly, teens should be reading whatever the hell their brilliant, growing, emotional, pubescent, confused little hearts desire. While I believe it's important to be exposed to challenging books you wouldn't have selected for yourself (hello, that's why I'm in a book club!), I do think that avoiding censorship at all costs and trusting teens to make some of their own choices is the only way they're going to understand the pure JOY that comes with reading and find the answers they're looking for...