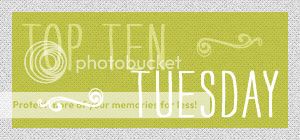 It's Top 10 Tuesday (hosted at The Broke and the Bookish) and the topic is Top 10 Books You Loved But Never Wrote a Review For
I'll be including mini reviews, as these are books I loved...plus one at the end that I'm GLAD I never reviewed:
The Hunger Games Series by Suzanne Collins:
Everyone should read this. In fact, high schools should teach this. My friend Ann's school is teaching it to young high-schoolers next year. Lots of important themes and discussion points rolled into one riveting, emotional journey.
Anything by Sarah Dessen:
I have read them all (except the latest), but haven't reviewed a single one. These are lovely romantic contemporaries from an author I can count on to tell me an enchanting story.
Anything by Meg Cabot:
Meg, I love you and I want to be you and your hair is so pretty and shiny. People, check out the Mediator Series and
All-American Girl
. Those are my faves.
The Disreputable History of Frankie Landau-Banks by E. Lockhart:
Pranks! Secret societies! HILARITY ENSUES!
Graceling by Kristin Cashore:
I really enjoy main characters who are female warriors. A beautiful fantasy/romance.
North of Beautiful by Justina Chen Headley:
I mentioned this one last week. A contemporary that takes on body image, family issues and more. It's a moving story that stuck with me.
The Harry Potter Series by J.K. Rowling:
No review because there are no words. Also, I didn't know what a blog even was when I read most of 'em.
The Twilight Series by Stephanie Meyer:
I am SO glad I didn't have a review when I first read these. Because it would be very fangirly, and my interest has definitely waned as the excitement of first discovering them wore off. That Edward – I find him scrumptious and stalkerish at the same time. Conundrum!