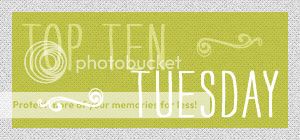 It's Top 10 Tuesday (hosted at The Broke and the Bookish) and the topic is
Top 10 Book Trends I'd Like to See More or Less Of
Trends I'm Over:
Faces on covers that I can't quite match to character:
The Vampire Academy and Morganville Vampire series are guilty of this, I feel. Who is that? Rose? Claire? Can't tell!
Love triangles:
'Cause it's hard enough to like/attempt to date one guy, no?
Mythology:
I love it, but this trendy topic and I need to go on a break.
Every paranormal ever in one book:
A lot of my favorite books are like this, but sometimes I just would like a fairy book that's actually a fairy book, you know?*
Controlling, nasty men who seek redemption:
I understand the bad boy appeal, trust me. But some people take it too far…and I worry a little about the message it sends to young girls. Not naming book names, but just sayin'…
Trends I Dig:
Quests:
Overcoming the odds for the sake of humanity! Oh, it gets me every time. (
Hunger Games, Blood Red Road, Knife of Never Letting Go
)
Humorous, believable contemps:
Stories that actually remind me of my own high school experience, just funnier/slightly cooler. (
Not That Kind of Girl, Ten Things We Did (And Probably Shouldn't Have), One Night That Changes Everything
)
Series galore:
Sure, it's annoying when a story never ends. But I'm the type of girl who always wonders what happens to the characters after the last page, so this sort of works for me.
Superstar authors co-writing books:
Basically I am referring to anything John Green and David Levithan have ever written with anyone. Two of my favorite authors? In one book? SCORE! It seems to show to me that these are collaborative authors who everyone genuinely likes and can work well with. Levithan is working on one now with
Nightshade
author Andrea Cremer. Fun, no?
Friendship stories:
As in
Will Grayson, Will Grayson
–esque. And friends that support, rather than backstab.
* I can't believe I just wrote that sentence.