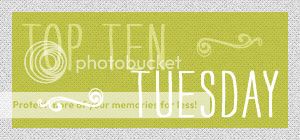 It's Top 10 Tuesday (hosted at The Broke and the Bookish) and the topic is:
Top 10 Books Underrated Books
Anything by Justina Chen, namely Girl Overboard
Everybody thinks Syrah is the golden girl. After all, her father is Ethan Cheng, billionaire, and she has everything any kid could possibly desire, right down to a waterfront mansion, jet plane, and custom-designed snowboards. But most of what glitters in her life is fool's gold. Her half-siblings hate her, her best friend Adrian's girlfriend is ruining their friendship, and her own so-called boyfriend is after her for her father's name. When her broken heart results in a snowboarding accident that exiles her from the mountains—the one place where she feels free and accepted for who she is, not what she has—Syrah must rehab both her busted-up knee,
and
her broken heart, and learn that she's worth her weight in real gold. (GoodReads)
North of Beautiful
It's hard not to notice Terra Cooper.
She's tall, blond, and has an enviable body. But with one turn of her cheek, all people notice is her unmistakably "flawed" face. Terra secretly plans to leave her stifling small town in the Northwest and escape to an East Coast college, but gets pushed off-course by her controlling father. When an unexpected collision puts Terra directly in Jacob's path, the handsome but quirky Goth boy immediately challenges her assumptions about herself and her life, and she is forced in yet another direction. With her carefully laid plans disrupted, will Terra be able to find her true path? (GoodReads)
Just Like That by Marsha Qualey
Things change so suddenly. One day Hanna has a long-term boyfriend; the next, she realizes she doesn't have strong feelings for him and breaks up with him. one day Hanna trusts her two best friends completely; the next, all of that trust is toppled. And then Hanna finds herself the bearer of a major secret: she was the last person to see two teenagers before they died in an accident on the icy lake. she can't tell anyone, so when Hanna finds herself drawn to will, the elusive boy she's noticed around town, the kind of boy who'd increase any girl's pulse, she doesn't hold back. what she learns about him will astonish her. but what she learns about herself—her friendships, her family, her life—will affect her far more. (Amazon)
A Map of the Known World
by Lisa Ann Sandell
Cora Bradley dreams of escape. Ever since her reckless older brother, Nate, died in a car crash, Cora has felt suffocated by her small town and high school. She seeks solace in drawing beautiful maps, envisioning herself in exotic locales. When Cora begins to fall for Damian, the handsome, brooding boy who was in the car with Nate the night he died, she uncovers her brother's secret artistic life and realizes she had more in common with him than she ever imagined. With beautiful lyricism, Sandell weaves a tale of one girl's journey through the redemptive powers of art, friendship, and love. (Amazon)
Pucker
by Melanie Gideon
Thomas Quicksilver, known to his classmates as "Pucker," has always been an outsider. His crazy mother, the secret of his family's strange origins, and above all, the terrible scars on his face from a childhood fire—these things have kept Thomas isolated and alone.
Now, at seventeen, a quest to save his dying mother takes Thomas back to his birthplace, an alternate world called Isaura from which he and his mother were exiled years earlier. In Isaura, Thomas's scars will be magically healed. He will fall in love for the first time. And he will face a devastating, impossible choice.
In shimmering prose, Melanie Gideon's new novel takes readers from the lonely places in a boy's soul to a miraculous world of infinite possibility and frightening temptation. (Amazon)
The Thief
(and its sequels) by Megan Whalen Turner
After Gen's bragging lands him in the king's prison, the chances of escape look slim. Then the king's scholar, the magus, needs the thief's skill for a seemingly impossible task -- to steal a hidden treasure from another land.
To the magus, Gen is just a tool. But Gen is a trickster and a survivor with a plan of his own. (Amazon)
Sooo here's the thing I realized in trying to create this list: I read a lot of "blockbuster" books. Not that there's anything wrong with that, but…I'm going to put forth an effort in the future to spend more time looking out for and reading the "under the radar" books.
Then again, maybe you guys are all like, "Duh, Anna, of course we know about these books already…"