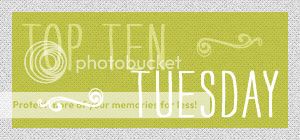 It's Top 10 Tuesday (hosted at The Broke and the Bookish) and the topic is...
WHATEVER WE WANT! So I'm picking:
Top 10 Sequels I'm Still Dying to Read
As in, I loved Book 1. I can't wait to read Book 2. But I just have so many books to read, I haven't had a chance to get to these yet. I feel just so -- ahh! -- stalled, dying to find out what happens next in each of these series. Soon!
Any suggestions on where to start?