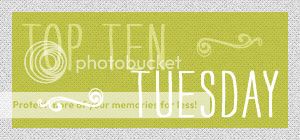 It's Top 10 Tuesday (hosted at The Broke and the Bookish) and the topic is
Top 10 Books I Feel Everyone Has Read But Me
I'm sort of alarmed by this, because I always am like "OMG I have so many books I haven't read yet"...but then when it came time to make this list I was sort of like: HOLY CRAP I HAVE READ EVERY BOOK EVER.
Exaggeration, but I guess I don't always realize how many books I HAVE read when I'm too focused on those I've yet to get to. Anyway, that list of those I haven't gotten around to includes:
The YA Authors I Haven't Touched:
Anything by P.C. Cast, Holly Black and Ellen Hopkins
Every Other YA Blogger Has Read This:
Matched
by Ally Condie and
The Book Thief
by Markus Zusak
Should Have Read in High School:
Slaughterhouse-Five
by Kurt Vonnegut,
The Bell Jar
by Sylvia Plath and
Lord of the Flies
by William Golding
My Book Club Doesn't Read Traditional Books:
The Help
by Kathryn Stockett,
Water for Elephants
by Sara Gruen and
The Kite Runner
by Khaled Hosseini
Am I missing out by not having read any of these? Or are other readers just making me feel that way?