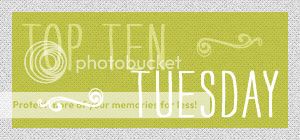 It's Top 10 Tuesday (hosted at The Broke and the Bookish) and the topic is
Top 10 Books I Wish I Would Read Again for the First Time
Not quite 10, but here are a few books that drove me crazy the first time I read them.
It's fun to look back at the questions that were running through my head while I read. Now, of course, the answers are painfully obvious, but I'd love to recapture that urgent sense of "WHAT IS GOING TO HAPPEN NEXT!?"
Harry Potter Series by J.K. Rowling
The Once Unknown: "Okay, J.K., let's be for reals: Is Snape good or bad? Also: Who are you gonna kill off? Because don't front on me, girl, I know you're gonna kill someone."
Pride & Prejudice by Jane Austen
The Once Unknown: "WHY IS HE SO DOUCHEY? And why is it so hot?"
Hunger Games Series by Suzanne Collins
The Once Unknown: "Do they really have to kill each other? For reals? Are you sure there's not a secret out? There's gotta be an out."
Mortal Instruments Series by Cassandra Clare
The Once Unknown: "Are Clary and Jace
really
brother and sister? If so, this is DISGUSTING. But then why is it, like, also awesome???"
Jessica Darling Series by Megan McCafferty
The Once Unknown: "What's the deal with Marcus Flutie?"
I've reread all of these books several times, but it's never been quite the same as the first time!