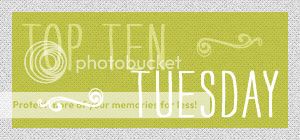 It's Top 10 Tuesday (hosted at The Broke and the Bookish) and the topic is
Top 10 Books I Read That Were Out of My Comfort Zone
Soo, turns out I pretty much only read books in The Anna Zone -- teen books with a touch of romance. Ahhh, well, you gotta stick with what you like, right? Anyway, I was able to cobble together a short list of a few books I tried in the past few years that I was reluctant to try but really enjoyed anyway...
I thought this was going to be a "boy book," but I really enjoyed it.
My first foray into romance novels. This was very smart and funny, which surprised me.
Oprah made me read it, but I sort of loved it.
I was so scared of books written in verse...until I tried this. A very gritty but swoony romance.
A grown-up book my book club made me read. But, despite all the death and pus involved, it's been my favorite of our picks so far.
This might surprise you, but I was super judgey of vampire books. Thank God I got over it and started this series.