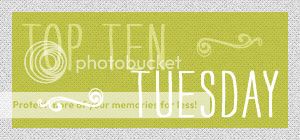 It's Top 10 Tuesday (hosted at The Broke and the Bookish) and the topic is
Top 10 Books That Have Been on My Shelf for the Longest Time But I've Never Read
Here's a little peek at part of my shelf dedicated to my "to-read" books:
I know, it's a lot. And that's not even counting the books on my Kindle.
I'm slowly making my way through the stack, which is filled with books I'm just DYING to read but haven't had time for yet.
Not sure you can read all the titles, but any recommendations on where you think I should start?