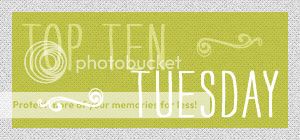 It's Top 10 Tuesday (hosted at The Broke and the Bookish) and the topic is
Top 10 Authors I'd Invite to Thanksgiving
I asked my husband if I should Photoshop the author's faces onto this image. But he determined "That would be creepy." OMG no one "gets" me! Hahaha.
I'd most want to hang with my favorite queens of contemp at Thanksgiving, or any gathering really. These funny, smart ladies would really know how to kick it:
1. Siobhan Vivian (
Not That Kind of Girl
)
2. Megan McCafferty (
Sloppy Firsts
)
3. Leila Sales (
Past Perfect
)
4. Sarah Mlynowski (
Ten Things We Did
)
5. Sara Zarr (
How to Save a Life
)
6. Lauren Barnholdt (
One Night That Changes Everything
)
7. Jennifer Echols (
Forget You
)
8. Elizabeth Scott (
Stealing Heaven
)
9. Simone Elkeles (
How to Ruin a Summer Vacation
)
10. Stephanie Perkins (
Lola and the Boy Next Door
)
11. Lauren Oliver (
Before I Fall
)
12. Jenny Han (
The Summer I Turned Pretty
)
13. Gayle Forman (
If I Stay
)
Oh, like I could stop at 10. Besides, only 75 percent of the people you invite to an event actually show up. If any of you are looking for some good reads...look no further than the list above. They're all very much "Anna Books."
Authors, see y'all at Turkey Day. I'll bring the stuffing!