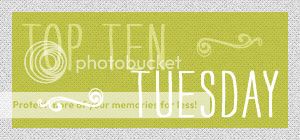 It's Top 10 Tuesday (hosted at The Broke and the Bookish) and the topic is
Top 10 Childhood Faves
So, I'm not going to lie. I had a bit of a reading geek situation going on in my youth. SHOCKER. By the time I was in sixth grade, I almost exclusively read adult books. I suppose I'm making up for it now, eh?
Anyway, I was really into Dickens and Agatha Christie and Michael Crichton and Mary Higgins Clark before I even made it to junior high. So some of these are a little more adult than usual (check out that
Gone with the Wind Cover
! I read that when I was 11!), but I tried to keep it as youthful as possible...
1. A Wrinkle in Time by Madeleine L'Engle
– The science behind it all fascinated me. Think about it: This series was teaching kids about mitochondria. Mitochondria! Don't see that too often in books. It cemented my love of sci-fi.
2. Sweet Valley series by Francine Pascal
– I was more into Sweet Valley Twins, but like every girl in the '90s, I just couldn't get enough of Jessica and Elizabeth (though good ole Liz was obvs my fave).
3. Baby-Sitters Club series by Ann M. Martin
– The best part of this series? The MYSTERY books! They were twice as thick and always involved some sort of exotic vacation. I think I reread them all at least five times.
4. Harriet the Spy by Louis Fitzhugh
– I wanted to be a spy. So. Bad.
5. The Giver by Lois Lowry
– Dystopian, ILY.
6. Little Women by Louisa May Alcott
– Oh that Laurie. The first book I read that featured a bad boy you were praying would turn out to be good. And a backstabbing biotch of a sister. I still hate you, Amy!
7. Anne of Green Gables by Lucy Maud Montgomery
– Gilbert. What a stud.
8. Robinson Crusoe by Daniel Defoe
– I spent an absurd amount of time as a child daydreaming about being shipwrecked.
9. Gone with the Wind by Margaret Mitchell
– My mom made me read this. That Rhett Butler seemed AWFULLY abusive to me. But, then I saw the movie and I though Scarlett was the problem. I think I need to reread as an adult.
10. Matilda by Roald Dahl
– That poor girl. A fellow book lover though! I could relate.