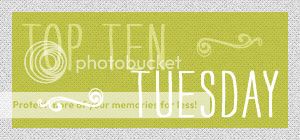 It's Top 10 Tuesday (hosted at The Broke and the Bookish) and the topic is
Top 10 Books I Want to Give As Gifts

I think the best gifts to give are books that meant something to you, so here are 10 books I adore and will would recommend to ANYONE who asks me for an opinion. It's sort of my "YA Starter Pack"! Ha!


Percy Jackson and the Lightning Thief by Rick Riordan
An Abundance of Katherines by John Green
Vampire Academy by Richelle Mead
Sloppy Firsts by Megan McCafferty
Pride & Prejudice by Jane Austen
All-American Girl by Meg Cabot
Just Listen by Sarah Dessen
Shiver by Maggie Stiefvater
The Hunger Games by Suzanne Collins
City of Bones by Cassandra Clare