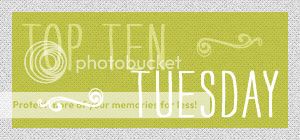 It's Top 10 Tuesday (hosted at The Broke and the Bookish) and the topic is:
Top 10 Books That Would Make Good Book Club Picks
In the past year or so, my book club has read:
A Stolen Life by Jaycee Dugard
Gang Leader for a Day by Sudhir Venkatesh
The Girl Who Feel from the Sky by Heidi Durrow
Bossypants by Tina Fey
The Hunger Games by Suzanne Collins
The Leftovers by Tom Perrotta
Game of Thrones by George R.R. Martin
Miss Peregrine's School for Peculiar Children by Ransom Riggs
Aaaand about a dozen or so others that I don't remember because I didn't really attempt to read them. What? You know you're guilty of this too!
The best discussion from all of the above? Hands down,
The Hunger Games
. We all read the book, and everyone brought friends to join in the discussion.
Why? I think because it was a book with a lot of buzz – something everyone could easily get their hands on and something we were all eager to read.
In my opinion, the key to a good book club selection is twofold: affordability and broad appeal. We try not to pick books that are only available in hardcover and we vote to narrow down the host's selection to one monthly pick so we're all likely to be happy with the choice. Book club should not feel like homework!
A few books that I
haven't
read but am likely to put up for a vote next time I'm hosting
wine
book club…
Don't have a book club?
Check out my post on how to set one up.