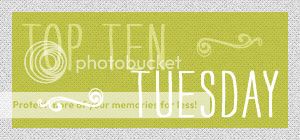 It's Top 10 Tuesday (hosted at The Broke and the Bookish) and the topic is:
Top 10 Books I'm Excited to Read in 2012
JUST TEN? HAHAHAHA! Forget that. I'm going to be BURIED in books in 2012... that's how many I want to read.
Sequels:
Isla and the Happily Ever After
by Stephanie Perkins
Insurgent
by Veronica Roth
The Golden Lily
by Richelle Mead
City of Lost Souls
by Cassandra Clare
Bitterblue
by Kristin Cashore
Once
by Anna Carey
Endlessly
by Kiersten White
Fever
by Lauren DeStefano
Shine
by Jeri Smith-Ready
Shadows
by Ilsa J. Bick
Middle Ground
by Katie Kacvinsky
Timepiece
by Myra McEntire
Ashen Winter
by Mike Mullin
Crown of Embers
by Rae Carson
Sweet Shadows
by Tera Lynn Childs
A Fractured Light
Jocelyn Davies
And more:
The Girl I Used to Be
by Miranda Kenneally
For Darkness Shows the Stars
by Diana Peterfreund
The Disenchantments
by Nina LaCour
A Midsummer's Nightmare
by Kody Keplinger
My Life Next Door
by Huntley Fitzpatrick
Something Like Normal
by Trish Doller
The Story of Us
by Deb Caletti
Dead to You
by Lisa McMann
The Soul
by Stephenie Meyer (Is it coming out this year? I can't tell. Hope so!)
The Treachery of Beautiful Things
by Ruth Frances Long
The Best Night of Your (Pathetic) Life
by Tara Altebrando
Thou Shalt Not Road Trip
by Anthony John
In Honor
by Jessi Kirby
Reunited
by Hilary Weisman Graham
And I'm leaving out so many others but only because I have them already and I will (hopefully) have their reviews up soon. Aahhh I could go on and on…books books books!