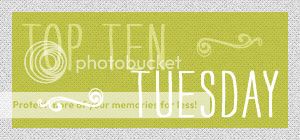 It's Top 10 Tuesday (hosted at The Broke and the Bookish) and the topic is:
Top 10 Books You'd Hand to Someone
Who Says They Don't Like to Read
(STARRING DANA!)
Dana and me, engaging in nonreading activities.
To answer this week's Top 10 question, I'm calling on the big guns -- my best friend Dana, a (GASP!) nonreader. Dana hasn't read a book since
Twilight
in 2007.* Sooo, yeah, it takes a lot to get her to read.
Dana's list of qualities nonreaders look for in a book:
First quality -- it's been a movie: "If there's a movie about it, I'll probably read it," Dana says.

OK, honestly, her first response was "Anything I can read on the toilet."** Quickly followed by, "Anna, I don't want to read any books about fairies. Especially if it's spelled with an 'E.'" HHAHAHA.

Second quality -- a shorter read: "I don't have time to get invested," Dana says. "I want something I can just pick up every now and then without a lot of thought."


A lot of people can relate -- they don't have the time to read, or don't want to make time to read a book they don't know they'll like. So, they look for a good guarantee, which usually does mean a super-hyped, blockbuster-type book. And there's nothing wrong with that!
Here's Dana's book wish list, which I think gives you an idea of what appeals to nonreaders:
• Any book about Taylor Swift (she's a fan, what can I say?)
Personally, I think these are solid books. Crowd-pleasers, you know? And books that aren't going to take you 500 years to read (cough
Game of Thrones
cough).
So any of you want to join forces and help me convince Dana to ACTUALLY try one of these? Or, knowing what you now know about Dana, any book recommendations for her?
* After she read it, she was so into it she once ran out of the bathroom yelling, "Anna! I was in the shower and I saw calming shampoo and I thought, 'This shampoo is just like JASPER!'" She's basically hilarious.
** She had Baby-Sitter's Club books in our bathroom in college.