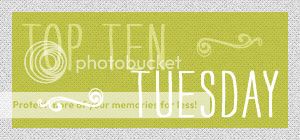 It's Top 10 Tuesday (hosted at The Broke and the Bookish) and the topic is:
Top 10 Books I'd Give a Theme Song To
OK, so clearly this is the theme song of all
Jessica Darling books by Megan McCafferty
:
Who knew I'd come to love Barry Manilow so?
For me, this was always the theme for Sam and Grace in
Maggie Stiefvater's Shiver
series:
Oh my gosh, so perfect.
This is my theme song for any series that involves a road trip, but specifically
Saving June by Hannah Harrington
:
Do you know the song "I Will Let You Go" by Daniel Ahern? Love it. It was featured in
Pretty Little Liars
a few weeks ago, but I always thought it fit Mia from
If I Stay and
Where She Went
. Whether it's Adam or her parents, she's always struggling to let someone go, and this sad, mournful song matches perfectly for me:
For
Cinder by Marissa Meyer
, I said my review that "I Am Not a Robot" was my theme song. To me, the book was all about vulnerability, and this song is a perfect match. Part-robot humans are people too! HA!
OK, ahhh I could keep going but this is a million videos already so I'm going to end here. Share your "theme songs" in the comments!