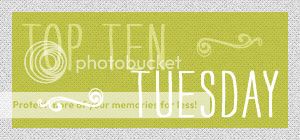 It's Top 10 Tuesday (hosted at The Broke and the Bookish) and the topic is:
Top 10 Books That Broke Your Heart a Little
Earlier this year, I read a book called
The Survival Kit
by Donna Freitas. I'll put the review up a few weeks from now, but I wanted to talk about one thing right away:
How I spent the entire book SOBBING LIKE A BABY.
In
The Survival Kit
, the main character finds a "survival kit" made by her mom on the day of her funeral – a brown paper bag filled with random objects that she uses, bit by bit, to find a way to get through her debilitating grief.
I mean, if that stuff doesn't make you cry, I don't know what will.
Despite being a HUGE crier in my own life (I'm sensitive, whatever), I hardly ever cry in books. But when I do, I sort of love it. It means a book really took me on an emotional journey, really broke through and touched me. Here's a few recent books I remember sobbing at:
Hallowed
by Cynthia Hand (if you've read it, you know why)
Harry Potter and the Deathly Hallows
by J.K. Rowling (any of the death scenes)
The Hunger Games
by Suzanne Collins (RUE!)
Where She Went
by Gayle Forman (bridge scene)
Blood Promise
by Richelle Mead (another sobby bridge scene)
Shade
by Jeri Smith-Ready (I'm a Zachary fan, but it's Logan who made me cry)
So. Guys. For the next time I'm in the mood for a good ole sobfest, what are your recommendations? Please share in the comments!